Fluxion offers a range of solutions for your coating requirements: complete systems incorporating Radial Arc technology; individual sources; R&D and coating services.
We look forward to speaking with you about your application.
EQUIPMENT SALES
The simplicity, high rates and easy use and maintenance of the Radial Arc source is ideal for single source R&D applications as well as large commercial coaters using multiple sources (see "Performance").
Individual stand-alone Radial Arc sources are available complete with source, power supply and automation.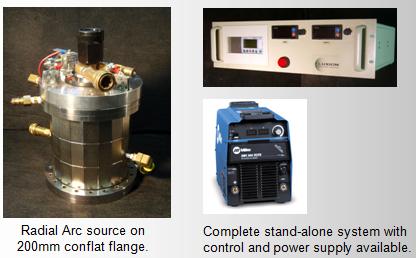 COATING SERVICES
We will work closely with you to provide optimized solutions for your advanced thin film applications. We specialize in difficult R&D challenges.
Tetrahedral Amorphous Carbon, Radial Arc coated cutting tools: